A Medical Eye Exam Vs. A Routine Vision Exam – What's The Difference?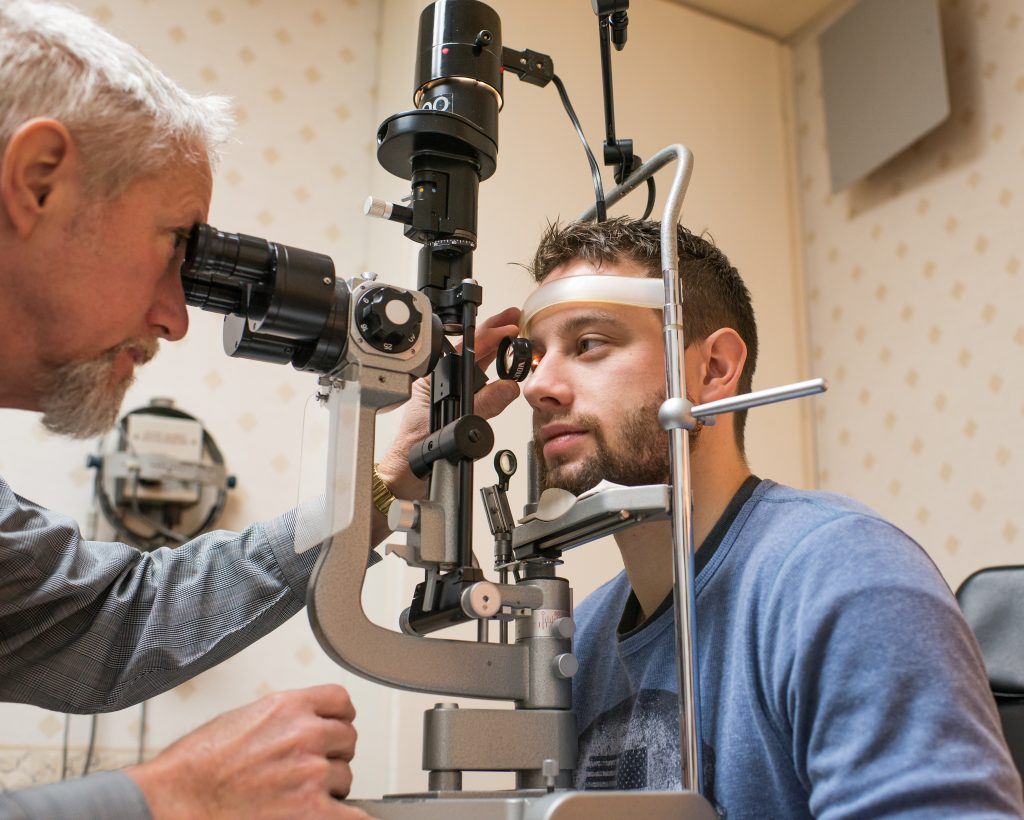 A Medical Eye Exam Vs. A Routine Vision Exam – We Know, It's Confusing!
When most people think about getting an eye exam, they're trying to picture whether or not the doctor will tell them they need glasses, or maybe thinking about updating their current contact lens or glasses prescription. They don't usually think of it as a medical or health exam.
A lot of terms are thrown around, like medical eye exam, comprehensive eye exam, routine vision exam, vision screening, etc., and there ARE differences between different types of eye examinations.
So when it comes to your eye care, how do you know what you're getting, and what you actually need?
A Medical Eye Exam Defined
Though small in comparison to the rest of the body, the eye is a complex and amazing organ.
Often times, the eye acts as a window through which we can see other things occurring in the body.
High blood pressure, certain tumors, strokes, diabetes, cancer, and more are known to leave their mark in the eye, allowing us to see overall systematic conditions or diseases we might otherwise miss.
Besides all that, the inside of the eye has the potential to develop its own conditions and diseases which can lead to blindness or greatly impaired vision.
Glaucoma, macular degeneration, cataracts, corneal dystrophy, retinal detachments, etc., are all medical issues with the eyes, not things that can be fixed with glasses or contacts. So when we say we are doing a comprehensive, or medical eye exam, those are the kinds of things we're looking for.
A medical eye exam differs from a routine vision exam in that it is an exam where we're evaluating or treating a patient for some sort of medical condition. 
A Routine Vision Exam Defined
Routine vision exams have more to do with what most people think of as a classic eye exam.
This is when an eye doctor will determine your prescription by doing a refraction.
A refraction is the fun part of the exam where you get to wear those big clunky glasses while your optometrist switches the lenses around  and asks, "Which is better, 1 or 2?"
He can then prescribe glasses or contacts based off the numbers that give you the best vision.
Along with your refraction, you'll receive a overall evaluation of the eye to make sure there are no medical issues arising and that your eyes are generally healthy.
This is not considered a medical exam, because there is nothing wrong or medically harmful about needing glasses prescription – it simply has to do with the shape of your eye as an individual and whether or not lenses can give you sharper, clearer vision.
Will My Insurance Pay For This?
The big question is, depending on which kind of exam you need, who will pay for it? Initially, the answer to that question seems pretty simple.
Your eye doctor is legally bound to follow healthcare guidelines regarding billing your insurance.  A medical eye exam should be billed to your medical insurance, while a routine vision exam should be billed to either your vision insurance or to you (if you are self-pay). However, because every insurance plan processes things differently, the best thing you as a patient can do is be educated ahead of time about what will or will not be covered by your insurance.
Because your eye doctor has no control over what your insurance will or will not pay, being your own advocate by asking questions and communicating with your insurance will help you know what you can expect when it comes to paying for either medical or routine vision exams.
Let Us Help You Sort Through It
Here at Vision Source Meadville, we know how confusing medical terminology and insurances can be.
We want you to know what we know and give you all the information we have about what kind of eye exam you are receiving, who it's being billed to, and what you can expect financially.
Because of this, our protocol is to live by the following mindset and actionable steps to ensure you have the best experience possible with us:
-If you've scheduled an appointment with us, we will ask for all your insurance information, so that we can verify both your medical and insurance policies before you come in for your appointment. That way, if for some reason you are not eligible for your benefits or we do not participate with your particular insurance plan, we can let you know ahead of time.

-If your exam has the potential to be billed medically, our technicians will take time to explain that to you before you see the doctor.

-We will do everything we can to help you understand any medical procedures performed or charges you receive, and if you have a question we can't answer we will let you know and encourage you to contact your insurance.
Need an eye exam, either medical or routine? Schedule one by clicking here!