Your Vision Matters To Us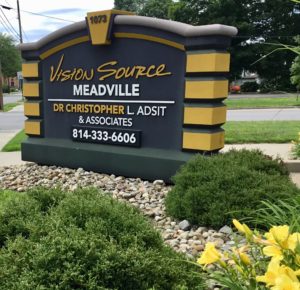 Here at Vision Source Meadville, we really believe life is all about your vision. Let us help you gain the clearest eyesight and vision possible. Spend time with our caring and thorough doctors, then visit our optical where our trained opticians will help guide you through the process of choosing the most comfortable and stylish glasses to meet your individual needs.
While you're visiting, we'll let you know what current community and global projects we're a part of at that time, so that you'll know how the business you do with us is being purposefully used to accomplish the mission of meeting needs in our world.
We've attempted to offer you and the Meadville community the very best in eye care services and products since 1996, and we're not stopping now! Take advantage of our advanced medical technology and cutting edge vision correction products to proactively keep your eyes healthy for years to come. Your vision is a huge part of a quality life; schedule an appointment with us today to keep living your life to the fullest.