Say Goodbye to Eye Fatigue: 5 Simple Solutions for Digital Eyestrain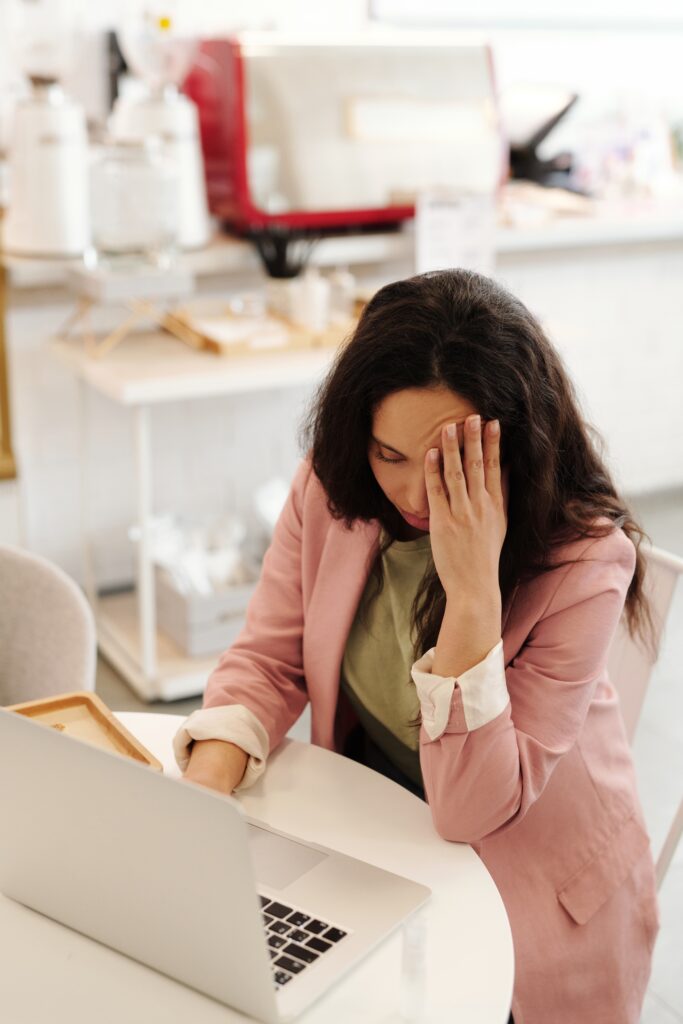 Have you ever experienced eye fatigue or discomfort after staring at a computer or tablet screen for a lengthy time? 
If so, you've experienced digital eyestrain: a common issue faced by many people in today's digital age. 
While digital devices have become an integral part of our daily lives, prolonged use of screens often causes numerous issues, including dry or irritated eyes, blurred vision, and headaches. 
But don't worry; you're not bound to a life of visual discomfort! We're here to share five common causes of digital eyestrain and how to correct them.
Source #1 – Blue light from digital screens
Digital screens are EVERYWHERE. From cellphones and computers to your vehicle dashboard, these screens surround you with blue light.  
But what is blue light? Blue light is light occurring on a shorter wavelength and has higher energy than other colors in the visible light spectrum. As a result, prolonged and direct exposure to artificial blue light can cause digital eyestrain. 
To reduce the risk of digital eyestrain from electronic devices, you can use blue light filtering glasses or a screen filter to reduce the amount of blue light transmitted directly to your eyes from digital screens. 
Source #2 – Glare and Surface Reflections
The sun is the primary source of natural blue light which helps regulate your circadian rhythm. But overexposure to artificial blue light via fluorescent lighting and digital devices can disrupt your natural sleep cycle. 
The overabundance of blue light doesn't simply affect our sleep; it makes it nearly impossible to avoid glare and reflections in every situation. 
To reduce glare inside, adjust the brightness and contrast of your device screens. You can also position your computer screen to avoid glare from windows or overhead lighting. 
While outdoors, we recommend wearing sunglasses to protect your eyesight from damaging UV rays, including blue light. Also, wearing polarized sunglasses while driving can relax your eyes and help you see more clearly behind the wheel. 
Blue light filtering lenses are also the perfect option for anyone looking to make the most of their eyewear. Blue light filtering non-glare lenses provide crisp, comfortable vision for indoor and outdoor wear and are especially helpful for relieving eye fatigue while outdoors on overcast days. 
Source # 3 – Poor Lighting
Are there bright, beaming, fluorescent lights above your desk? If so, it could be causing you significant visual discomfort. 
Proper lighting is critical in relieving digital eyestrain, as working in overly bright or dim lighting can cause visual discomfort. To reduce digital eyestrain caused by poor lighting, ensure that your room space is well-lit and that your screen brightness matches the lighting in the room. 
Source #4 – Computer Viewing Distance and Angle
 The distance and angle at which you view your computer screen can also cause digital eyestrain. Ideally, you should set your computer screen comfortably, typically an arm's length away. You can also adjust the screen slightly below eye level to lessen the strain on your neck. Both of these corrections can significantly improve your visual comfort.
Source # 5 – Low Screen Resolution
One of the leading causes of digital eyestrain is poor screen resolution. Low-resolution screens can make it harder to read text, causing you to strain your eyes. 
However, following the 20/20/20 rule can significantly reduce digital eyestrain, regardless of your screen's resolution. 
Every 20 minutes, take a break and look at an object 20 feet away for 20 seconds. 
This simple yet effective method can give your eyes a much-needed rest, reducing strain and fatigue. By implementing the 20/20/20 rule, you can reduce the risk of digital eyestrain and maintain healthy eyes while using digital devices.
While digital eyestrain is a common issue experienced by many, simple solutions make it easy to alleviate. 
Blue light eyewear, proper lighting, and frequent breaks are a few of the ways which can bring relief from visual discomfort. 
An additional way to avoid eyestrain is to have regular eye exams and keep your prescription current. Out-of-date eyewear can cause eye strain and discomfort, so be sure your glasses are up to date, especially if you're experiencing headaches, eye fatigue, or blurry vision!