Celebrating 25 Years of Exceptional Eye Care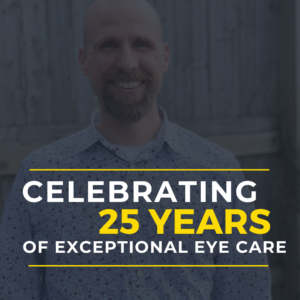 This month, Dr. Christopher Adsit celebrates 25 years of providing exceptional vision care to the Meadville community!
To celebrate, we'd love to share with you the story of how Vision Source Meadville came to be. But we're not simply going to tell you the story, we're going to share our core values and beliefs along the way so you can see how Vision Source Meadville has always been a Practice with Purpose!
The Beginning
"We believe that life is less about
SIGHT and more about VISION." 
On May 6th, 1996 Dr. Adsit began his practice at 779 North Main Street.  The office was located in a small house that had been converted into an optometrist office. It had only one exam room and a small optical in what used to be the living room! At the beginning of his journey, Dr. Adsit had only one employee working with him, his aunt Mary.
As time went on, the tiny office began to grow, so another exam room and more staff were added.
In 2008 Dr. Adsit became a member of Vision Source, a community of private optometrists.
Only one short year later, in 2009, he purchased the practice of Dr. Steven Cohen and moved the practice to its current location at 1073 South Main Street.
With that move, the practice began to grow rapidly and Dr. Adsit brought on a part-time doctor to assist him. As time went on, the practice continued its growth and in 2012, Dr. Dustin Mitchell joined our team as a full-time doctor.
The next big step in the practice's journey was in 2014 when Dr. Adsit branded the office as Vision Source Meadville – which is how you now know us.
Just a few short years later in 2018, Dr. Adsit purchased the offices of Dr. Scott Kennedy in Titusville and Oil City.  Dr. Adsit's vision of providing exceptional eye care and meeting the needs of others was shared by Dr. Kennedy who stayed with the practice until his retirement in November of 2020.
Now & Future
From its humble beginning on 779 North Main, Dr. Adsit's practice has now grown to have 3 locations, 3 full-time doctors, and over 20 employees – All serving our communities in Meadville, Titusville, and Oil City!  
"We believe that we were created to LOVE and SERVE

our Fellow Man." 
Dr. Adsit's mission is to serve others and he has used his practice to live out that mission.
Throughout his career, Dr. Adsit has participated in several mission trips to provide vision care to those in need. He's also made it a purpose to support missionaries and several local pastors by providing them with eye care and eyewear materials. 
"We believe that business is about more than making a profit; it's about using that profit to help MEET the NEEDS of others."
Dr. Adsit has reminded his staff that in meeting the needs of others, we are blessed. As employees at Vision Source Meadville, we've all experienced the joy of being that blessing. Not only have we provided eyewear to those who are serving others, but we've also been able to serve by providing complimentary eyewear to those who have fallen into hard times. We've been blessed by our patients and we believe in paying that blessing forward to those who need it most!
We believe that by working together, we can MAKE A DIFFERENCE in this hurting world.
Not only has Dr. Adsit's practice been able to serve our immediate community, but we've also been able to serve globally.
We don't believe in merely existing and maintaining the status quo. We believe in going out and making a difference!
Dr. Adsit partners with individuals and organizations who share in his vision of sharing the love of Jesus Christ through meeting the needs of others.
To date, Vision Source Meadville has been proud to support The Abraham Project, The Gray Samaritan, and the Kilimanjaro Water Run to make a difference in this hurting world.
Each of these organizations has the desire to meet a specific need:
The Abraham Project – provides housing, schooling, and assistance to orphans and single mothers in their communities in South America.
The Gray Samaritan – is committed to the global fight against human trafficking.
The Kilimanjaro Water Run – provides clean drinking water to the Maasai people in Tanzania.
These are just a few of the organizations that we've partnered with and we're excited to continue to make a difference!
We believe God has called us to LOVE as He loves.
"I have learnt that all men live not by care for themselves, but by love…I have now understood that though it seems to men that they live by care for themselves, in truth it is love alone by which they live. He who has love, is in God, and God is in him, for God is love."

– Leo Tolstoy
As you look at the heart of the practice, you'll see that it mirrors the heart of Jesus. Dr. Adsit believes that we serve God by serving others and there is no better example to be found than in Jesus.
Because of this, our practice has been blessed with meaningful work. While many wake up and head to their office for a paycheck, our practice has the opportunity daily to live out our purpose. We're blessed to see how and why what we do matters as we love others and meet the needs of those around us.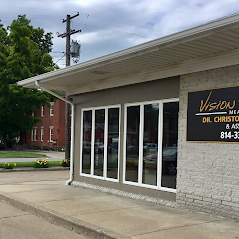 We're so grateful for Dr. Adsit as he continues to lead us in this 25 year legacy of serving!
Schedule with us today to partner with our Practice with Purpose!