5 Must Haves For Your Child's Glasses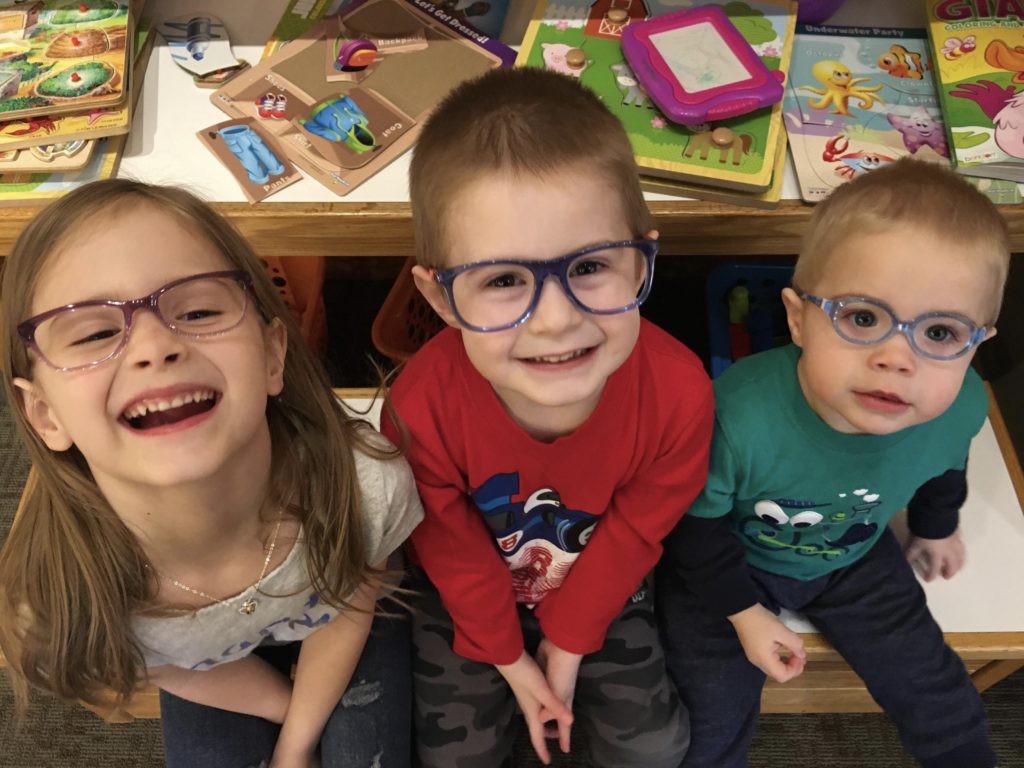 We love helping kids find their perfect set of eyeglasses, here at Vision Source Meadville! Our opticians have had a lot of experience helping children choose frames they'll love. They've also had enough experience fixing frames and helping kids who have issues with their glasses that they know there are a few basics every parent should consider when buying glasses for their children.
Sturdy Frames
This one is kind of a given. Chances are every kid is going to bend, drop, or twist their frames at some point. That's completely normal – kids are kids! Whether its during sports, at recess, playing with the dog, or falling asleep with their glasses on, your child will probably need their frames adjusted or replaced at some point. Making sure you purchase a frame that is sturdy and durable in the first place  will help preserve them as long as possible. Our opticians can advise you as to what kids brands are known for being strong and lasting the longest. If your child has a high prescription, it may even be worth considering getting two pair of glasses so that you always have a backup in case of emergency.
Polycarbonate Lenses
Polycarbonate lenses are the number one material for lenses we recommend for all children that we see at our office. This is because unlike glass or plastic lenses, polycarbonate lenses are shatter-resistant. If your child is somehow hit in the face or falls, polycarbonate are designed to crack instead of shatter. Because of how active most children are, this is a huge factor in keeping their eyes safe and preserving their vision.
Anti-Reflective Coating
Anti-reflective coating is a treatment baked into the lenses. We recommend it for children because of how it gives clearer sharper vision, and also because it is proven to reduce eye strain. Kids benefit a lot from anti-reflective coatings while they're in school, doing homework, or using electronics. In fact, some anti-reflective coatings now include blue light blockers to protect your child's eyes from blue light we come in contact with through cell phones, tablets, and computers, which is proving to be harmful to our health. We never send a kid out the door before offering this amazing product as part of their eyeglass package.
Transition Lenses
Transition lenses can be a huge asset to kids, especially kids who like to play outdoors a lot. Studies show that a huge portion of the UV damage we receive in our lifetime happens before the age of 18. Its extremely important to protect your child's eyes from the sun, and transitions are a convenient way to do just that. If you'd rather not carry around a pair of prescription sunglasses to put on your child every time he or she is outside, transitions might be the solution to protecting your child's eyes. They can just wear their every day glasses outside and be all set!
Warranty
Wherever you purchase your child's glasses, be sure you know what kind of warranty is included for both the frames and lenses. You never know when an accident may occur and you might have to replace their specs! Here at Vision Source Meadville we will replace any frame that breaks within one year of purchase, and we are able to replace lenses that get scratched twice within two years as long as they have anti-reflective coating on them.
Need to get your child's eyes examined? Call us today to set up an appointment. Then let our skilled opticians help them pick out the perfect set of eyeglasses!